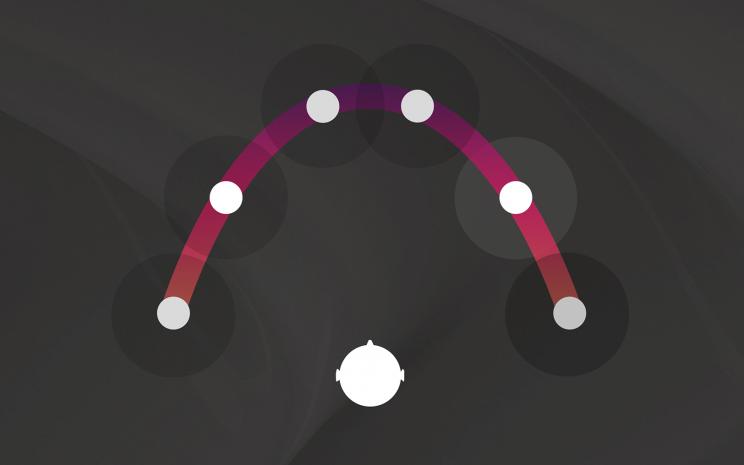 01.10.-31.10.
tingles & clicks
Interactive Online 3D Sound Experience
Wear a facemask, keep a safe distance, reduce social contacts, etc. Social-distancing instructions have accompanied us in this global health crisis from the very beginning. Interpersonal relations have been curtailed to protect the individual. Tingles & Clicks strives to explore and resurrect this lost physicality in commissioned works for which outstanding musicians create quasi-tactile experiences.
Interactive audio works by
Natasha Barrett, Andrea Sodomka, Marco Donnarumma, Svetlana Maraš, kӣr, Ulf Langheinrich and Cam Deas
.
Inspired by an approach to music making that uses sound in a minimal and abstract manner, relies on field recordings, and with a view to the ASMR (autonomous sensory meridian response) movement, extremely spatial and intimate listening experiences are created in the place where most people have recently spent or were forced to spend a majority of their time: within their own four walls. With a computer, webcam, and headphones, everyone can immerse themselves in interactive, auditory one-person experiences.
Start Now
>>
More info on the project at Musikprotokoll.

Audio Works
Beachcomber
Natasha Barrett
Many years ago, when recording and composition technology was of the analogue world, the tiny sounds that I tried to capture as a teenager were lost in a floor of noise. I remember exploring the sounds of a bay, which was deserted due to the sea being too cold to attract the sun loungers. My recordings and musical ideas merely peaked above the equipment's analogue noise, just as my memories of those places now merely peak above the hundreds of thousands of events that have since passed.
In this new interactive work composed especially for musikprotokoll 2020, I have revisited these sounds with digital means, spiced their simplistic nature and drawn them closer, to excite areas beyond the ear. As a sonic beachcomber you can explore and find your own narrative and your own sensations:
The waves will take you,
the waves will take you back,
early in the twilight,
late in the dusk,
finding sensations in the sounds that others let pass,
the barnacles' tentacles,
the cockles' shells,
the wild flower, the bee, the wave, the glass, the sharp stone, the wind-blown field of silica.
Natasha Barrett
Natasha Barrett
's (*1972, UK/NO) composition is inspired from the natural and social world around us: the way it sounds and behaves, systems, processes and resulting phenomena. These interests have led her to use cutting-edge audio technologies, geoscience, sonification, motion tracking and some exciting collaborations involving instrumental ensembles, visual artists, architects and scientists. The musical application of spatial audio in its contemporary music context has guided her work since the late 1990s. Her work is commissioned, performed and broadcast throughout the world. Since 1999 Norway has been the basis and resource for her work.
---
From deep blue to crystal white – The colours of distance
Andrea Sodomka
Travel bans, cancelled concerts, no studio productions, no musicians with whom to work and explore new sounds.
A yearning for the sea; however, all marinas around the world are closed.
So much is lost, just memories and dreams remain.
I travel with the sound of past journeys to imaginary places and dreamed worlds.
Keeping in touch with friends, improvising a bit, exchanging ideas in video conferences isn't really satisfactory. The longing for open space, for the world, for exchange, for contact persists.
Somehow the anchor to reality has been lost, the anchor point has shifted.
But don't I actually work and communicate and feel in the virtual world anyway?
When I open the window:
Silence, crystal clear like crackling ice. Hardly any sounds from outside, no airplanes, little traffic. No sounds of children laughing and yelling on the playground.
On the way to my studio I am alone on the underground. Even during rush hour at the central interchange just five people. A lone guitarist, wearing a mask, takes the chance and plays for himself.
Where is everyone? Fear rises from a dark corner of my mind: Will I be alone forever?
A lost city, a city between the times, a city in the space between.
A strange acoustic backdrop I've never heard before. Similar to the sound of nature, only louder.
Andrea Sodomka (Translation: Friederike Kulcsar)
Andrea Sodomka
(*1961) is a composer, media artist and curator and works in the fields of intermedia art, sound art, radio art, and interactive art. Sodomka studied at the Academy of Applied Arts and at the Academy of Music (Institute of Electroacoustics), Vienna. She is also co-founder of alien productions, a network of artists established in 1997 that focuses on the theory and practice of technology and new media and stands especially for co-operative projects with other artists, technicians, theorists and scientists. Andrea Sodomka lives and works in Vienna.
---
Inanis
Marco Donnarumma
Inanis
(2020) – from the Latin word for 'void' or 'stupid' – is a spatial sound piece inspired by the auditive experience of unhearing and its mediation through technologies. Drawing on Donnarumma's severe hearing loss, the composition invites the listener to experience the void of the unheard. What is unheard is not absent; it stubbornly exists in a sensorial dimension that cannot be accessed – at least not by everyone. But then, this is true also for out-of-body, hallucinatory and mystic experiences. It's not a question of whether a phenomenon exists, but of how to access it.
Inanis
is constituted by two, interdependent sonic forms and the void that technological mediation creates between them: one sonic form is the piece as it would be heard through the artist's naked ear, hence, through a particular type of hearing loss; the other sound form is the same composition processed and played back through Donnarumma's hearing aids, that is, a computational approximation of the frequencies he cannot hear unaided. What lies between the two sonic forms, both sonically and conceptually, is the listening void, the gap, the hole, the unheard, which can, nevertheless, be heard by others. Does it exist and where?
Media: hearing aid recordings, extended bass guitar techniques, field recordings, analogue feedback mixing and dubbing. Mastering by Daniele Antezza at Dadub Studio.
Marco Donnarumma (*1984) is an artist, performer and scholar weaving together contemporary performance, new media art and computer music since the early 2000s. He manipulates bodies, creates choreographies, engineers technology and composes sounds, combining disciplines and media into an oneiric, sensual, uncompromising aesthetics. He is internationally renowned for solo performances, stage productions and installations where the body becomes a morphing language that speaks critically of ritual, power and technology.
Marco Donnarumma
---
GRÜN GELB
Ulf Langheinrich
Most of the material for this piece was created in 2017 during many hours of night-time work sessions in a then standard environment consisting of the Roland-MKS80, Oberheim OBMX, Jomox SUNSYN, and Alesis ANDROMEDA-A6 synthesizers, which were controlled in parallel by a shared keyboard.
The intuitive improvisational approach doesn't distinguish between sound design and composition. The microtonal scaling of the fundamental tones played on the keyboard is ultimately analogous to the distribution of the frequencies in the sounds produced on the respective instruments. Created in a sound-design-improvisation-composition these differently drifting layers merge into an all-encompassing sound experienced by the author as a colour field (green-yellow tones, which is very unusual), and without temporally and spatially discrete objects. The properties, or rather, look-and-feel qualities of this field are, for instance, viscosity, temperature, density, and emptiness, but also homogeneity, from a leaden pasty to a crumbly, granulated consistency. This description is an attempt to put intuitive experience and creation into words. And creation here doesn't mean activity with the aim of doing something to achieve a goal, but flooding a space and drifting in it or actually sinking into it.
Composition as formatting is the spectacles through which something from these sessions becomes visible. Because it will be heard, it is organised within the precise framework of a listening situation intended to be interactive. However, turning your head won't earn you any event nuggets in this virtual environment. Here, head movement means the endless jactations of the children of the night.
Ulf Langheinrich (Translation: Friederike Kulcsar)
Ulf Langheinrich
(*1960, Wolfen) left East Germany in 1984 and settled in Vienna a few years later where he founded Granular-Synthesis together with Kurt Hentschläger in 1991. The duo created groundbreaking monumental multimedia installations and performances. Internationally recognised as a solo artist, he lived in Ghana and Hong Kong for many years and is currently based in Dresden where he has been serving as artistic director of the CYNETART festival in Hellerau since 2016. His work mainly deals with non-narrative environments and performances focusing on a specific approach to time, space and body. Besides his artistic activities, Langheinrich has taught at the most prestigious universities in Europe as well as in Australia and China over the past years.
---
L'ampleur du souffle
Svetlana Maraš
Because of the pandemic we are confined to our private spaces, inner spaces, and our views are constantly obstructed by walls. And while vast open space, fresh air and nature have become unattainable to most of us living in the city, we still crave it as a distant yearning for a kind of ultimate liberation. This puts an emphasis on our sense of space, it becomes overly present in our lives, and we actively play with its alternatives either by redecorating and rearranging the furniture or by dreaming of traveling. Swift changes between alternative spaces are possible in music thanks to advanced technology and compositional techniques. By sculpting the space with sound, we can create a fictional reality that engages the ear and amuses the brain, bypassing the walls that surround us.
To breathe is to activate a certain space. Short breaths, deep breaths, dying breaths or sensual ones – each of these various types evoke different aspects and peculiarities of the overall act of breathing. Breath is also a precondition of voice and, further, of the spoken word. Paving the path for every physiological and philosophical activity, breath is essential to all we are and everything we do. Yet nowadays not only is our breath being stifled but fresh, clean air is becoming an endangered resource.
With the innate musicality of these concepts I have been able to create a framework for a number of fluidly changing auditory situations. The constant fluctuation and transfiguration of musical material is intended to stimulate the ear – not to adapt but to adopt the heterogeneity of content – and to invite the mind to do the same.
Svetlana Maraš
(*1985) is a composer and sound artist from Serbia. She works at the intersection of experimental music, sound art and new media. Her musical work focuses on finding an adequate form of expression in different media, genres and representational contexts and encompasses live electronic music performance, electro-acoustic composition, radiophonic art, sound and media installations. She graduated from the renowned Aalto University (Helsinki) where she also worked as a research assistant. As composer in residence and artistic director of Radio Belgrade's Electronic Studio since 2016, she has initiated various projects and activities, artist residencies and educational programs.
---
Listening Heterotopias
kӣr
We are constantly surrounded by an audible environment. We, humans and non-humans, are its witnesses and its makers. Every action that we take or that is taken upon us leaves a trace, and those traces all have their sound components – just a tiny fraction of this is physically recorded, the rest we try to recreate or resound by leaning on our knowledge of written and spoken history, relying for the most part on our imaginations. With imagination, the past, present and future intervene. We are free to introduce subjects and objects into our fantasies and their accompanied soundscapes, which may or may not be of this world. These fantasies can remain private; they can be shared as works of art or as tools for creating alternative realities of what we perceive as objective truths, in this way creating uncertainty and altering our judgment of the present (and past) and influencing the way we interact with it.
The Tingles & Clicks platform gives the listener the interactive possibility of gliding between three different sectors of soundscapes, i.e. alternative realities, plus it creates six different sound objects aimed at enhancing a feeling of special presence. In my Listening Heterotopias I address on this concept applying the format of the radio drama and introduce one unspecified historic episode with three different 8 minute alternatives. The first one will depict "true" historic narrative, the second will offer the "losing side" version and the third will be completely fictional. This will in a very haptic way symbolically recreate how our realities are rendered for us and by us and maybe give us a different sense of the world and of us in it.
Bane Jovančević
kӣr
is the solo production epithet of Bane Jovančević, resident live artist and program manager of the Drugstore Beograd club. By combining traditional and experimental influences in electro-acoustic music, kӣr creates a sound in which drone-navigated post-industrial logos transforms into a tribal mythos, in search of the traces of the future. The clash of synths and acoustics invokes an audio landscape of Byzantine sacral traditions and Balkan folklore rhythms. kӣr's symbolic language layers up with an ancient temporality and its logic of being that is not of the past but of our own time. The basic concept is to challenge conventional and predominant rhythmic structures in music by juxtaposing traditional rhythms with contemporary electronic sound design.
---
Milieus & Rhythms
Cam Deas
This work was imagined as a physical installation where the listener is able to move around and combine different sound sources and velocities within a space. I wanted to make something where layered generative patterns, which as a whole would be chaos, are interconnected and the webcam tracking system would allow the listener to choose those connections within this simulated space.
As the project is a simulated space I used nearly entirely physically modelled sounds, synthesised percussive sounds which act and sound similar to an acoustic instrument. It is made up of layers of generative rhythms, tuned in just intonation, which build over 8 minutes. There is a base layer and pitch which always runs to give a grounding, while the other layers are running on different tempos, calculated with the same ratios as the intervals between the pitches. This gives different degrees of rhythmic phasing, smaller ratios for simple intervals (for example 3:2 for a perfect 5th) create a simple polyrhythm, whereas less simple ratios give a sense of rhythmic dissonance where you might not be able to follow the structure of the pattern, but the sense that they are connected is still there. If all the parts were to play at once it would be indecipherable, however when the listener is able to combine these different combinations they are able to physically explore these varying superimposed velocities, and the patterns, simple and complex, that they create.
Cam Deas
is a musician and sound artist based in London. His practice concerns abstract sound, polytempos, irregular tuning systems and stochastic and computer generative systems to create immersive environments of sound and music. He has presented his work internationally, performing around 300 live concerts. His work is not subject to straightforward categorisation, with output ranging from solo acoustic guitar exploration through live electro-acoustic performance, to pure synthesis and computer generative music. In 2018 he released Time Exercises on The Death of Rave, consisting of five works for synthesiser and computer, his first release of purely electronic work. The pieces explore polytempos and relative ratios between pitch and rhythm in a dense electronic space, described as "disembodied music playing out a thrilling dramaturgy and syntax of alien dissonance and disorienting rhythmic resolution".
Start The Audio Art
Credits
With commissioned compositions from Natasha Barrett, Andrea Sodomka, Marco Donnarumma, Svetlana Maraš, kӣr, Ulf Langheinrich and Cam Deas.
A project of ORF musikprotokoll. Concept, production: Fränk Zimmer. IEM - coordination: Robert Höldrich, IEM - technical development: Matthias Frank and Franz Zotter. The composition by Svetlana Maraš was commissioned by depart.one. In cooperation with IEM - Institute for Electronic Music and Acoustics (IEM), SHAPE - Sound, Heterogeneous Art and Performance in Europe. Supported by the program "Creative Europe" of the European Union. Svetlana Maraš, kӣr and Cam Deas are SHAPE Artist 2020.

Facebook Event Page
Save in Calendar